Image via Roblox Royalty Kingdom 2
Royalty Kingdom 2 is so much more than just another Roblox dress up game. Run around the beautiful world and help the locals by completing quests in various towns and villages. And of course, make sure you look fabulous while doing it. The theme changes with the seasons, offering lots of new stories and fresh items for your wardrobe and keeping you coming back for more.
Codes in Roblox Royalty Kingdom 2 can have a variety of uses. Some give you Wisteria, the main currency of the game, which you can use to buy accessories. While others gift you unique items that instantly add to your wardrobe.
If you love looking cool in Roblox games, check out some of our other code pages including Fashion Famous Codes, Royale High Codes, Welcome to Bloxburg Codes, Welcome to Farmtown Codes, and Adoption Simulator.
List of all Royalty Kingdom 2 codes
Updated on November 23, 2022

Added new Royalty Kingdom 2 codes.
Royalty Kingdom 2 Codes (Working)
Here's a look at all of the Royalty Kingdom 2 job codes.
HAPPYHALLOWEEN2022—Redeem for Pumpkin Head (New)
CALAMITOUS CREATURE—Redeem for Cyclops Batkitty pet (New)
Royalty Kingdom 2 Codes (Expired)
These codes for Royalty Kingdom 2 no longer work.
10K LIKES—Redeem this code for 5000 Wisterias
1KFOLLOWERS—code has expired
RETRO SUNGLASSES—Redeem this code for sunglasses
HEART SUNGLASSES—Redeem this code for sunglasses
ROYAL KINGDOM2—Redeem this code for the crown of the Kingdom
AUTUMN CHEST— Redeem this code for 1,000 Wisterias
How to Redeem Codes in Royalty Kingdom 2
Redeem codes for free rewards at royal kingdom 2 It is easy. Follow our guide below.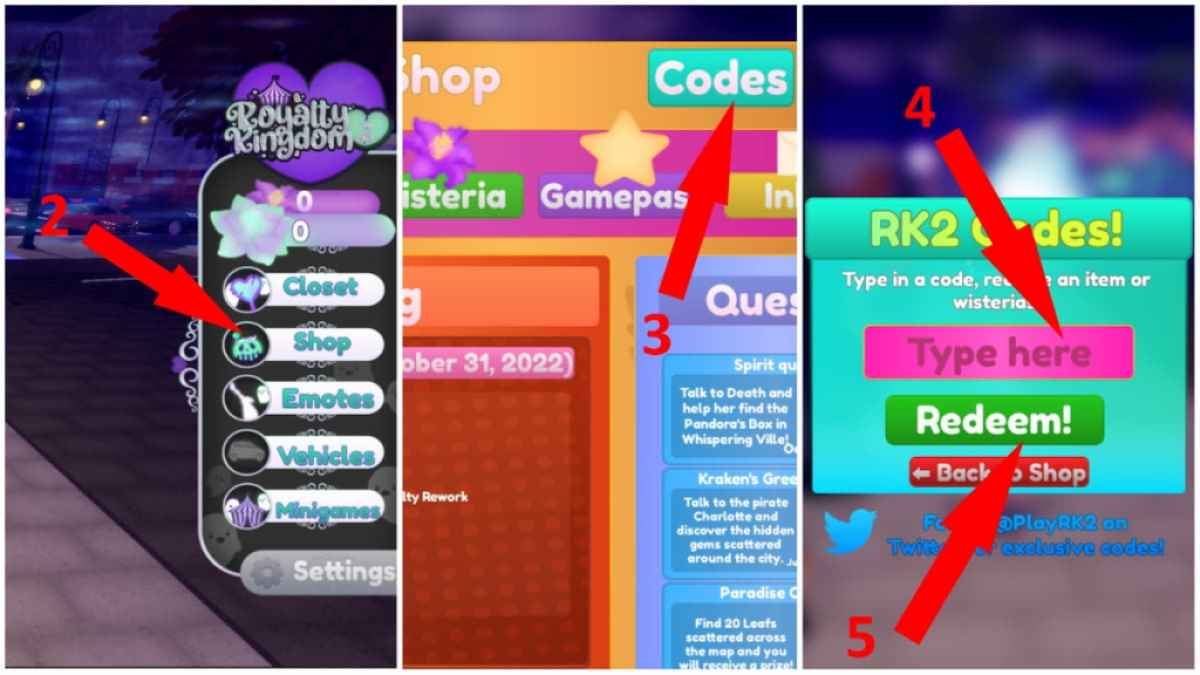 Launch Royalty Kingdom 2 on Roblox.
press the shop button to the right of the screen
In the popup box that opens, click the blue button Codes at the top right.
In the RK2 popup window, enter the code exactly as it appears in the list above in the pink box that says, Write here.
press the green redeem button to claim your reward!
How can you get more Royalty Kingdom 2 codes?
We're constantly sending out our loyal minions to search for new Royalty Kingdom 2 codes. But if you'd like to try finding one yourself, we suggest starting by adding join the Royal Kingdom 2 Roblox Group. You can also join the Royalty Kingdom 2 Discord Serverand continue @PlayRK2 On twitter.
Why aren't my Royalty Kingdom 2 codes working?
If you tried one of our codes for Royalty Kingdom 2 and it didn't work, first check for typos. Make sure you've done the correct capitalization as shown, since you haven't mistaken a letter for a number (cut and paste is best). If it still doesn't work, the code may have expired. Royalty Kingdom 2 updates its codes quite frequently. So even if one has expired, hopefully some new ones are coming soon!
How can I earn Wysteria in Royalty Kingdom 2?
You will simply accumulate Wisteria in Royalty Kingdom 2 by staying online, as you will still receive small rewards for time played every 15 minutes. However, the best way to get Wisteria is by playing mini-games. They are accessed by clicking on the Minigames button in the menu on the right. These change when new themes arrive, so be sure to check back often. They might involve you fighting a creature or completing obstacle courses. You'll still get a reward even if you don't do too well.
What is Royalty Kingdom 2?
Roblox Royalty Kingdom 2 is part dress up game, part RPG. You start out with a ton of clothing options in your closet. But by completing collection missions and exploring the world, you can earn Wisteria (coins) to buy more, as well as pets, vehicles and more. Also, there are several mini-games that will help you earn even more coins that you can spend on amazing new outfits.
If you're looking for codes for other games, we've got a bunch of them in our Roblox Game Codes mail! You can also get a lot of free stuff through our Roblox Promo Codes page.