Screenshot from Pro Game Guides
Disney Dreamlight Valley is a magical life simulation game available for PC and Nintendo Switch and free to play with Xbox Gamepass. Team up with some of Disney's greatest characters as you restore the world of Dreamlight Valley by completing unique quest lines, exploring unique biomes, and even preparing special Disney-themed meals. There are so many recipes you can cook, from one-star to five-star dishes in Dreamlight Valley, that are essential to your time there, allowing you to make friends, earn Star Coins, or restore your energy. Here's how to use some of the harvested ingredients to make this four-star coconut cake!
Coconut Cake Recipe at Dreamlight Valley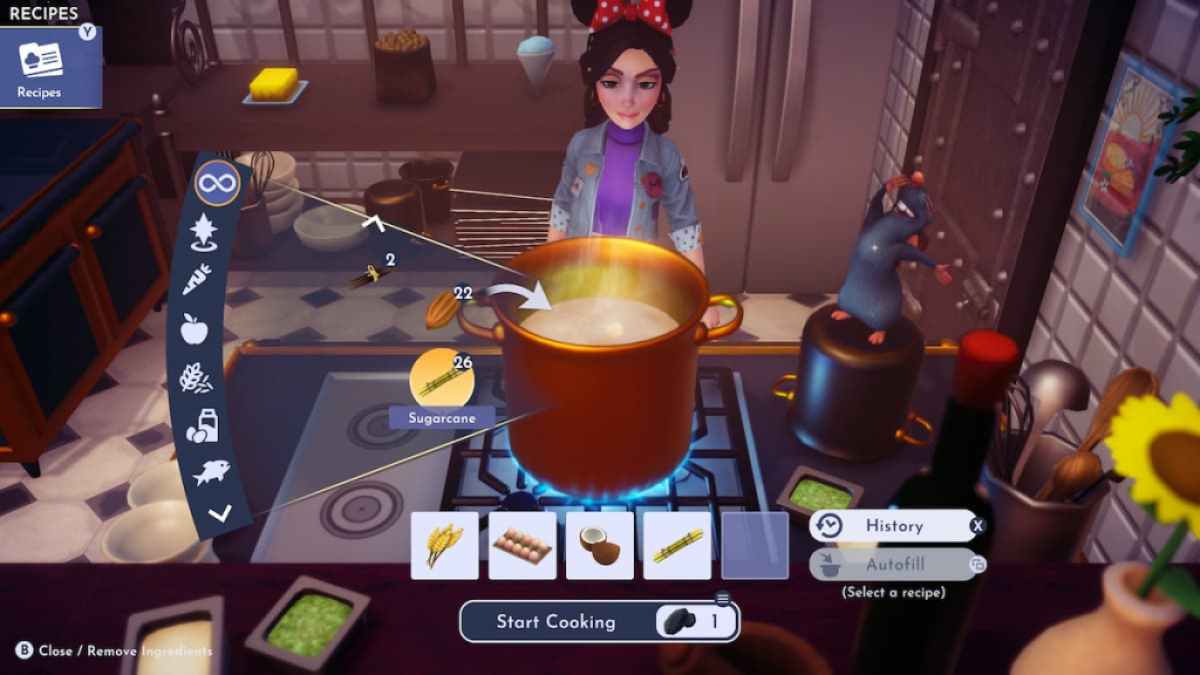 There are many delicious desserts to make in Dreamlight Valley that use relatively the same baking ingredients, such as wheat, eggs, and sugar cane. You can add another star ingredient to prepare different flavor options, like this Coconut Tart.
Coconut Cake is a four-star dish that, like other cakes, turns out to be one of the best meals to replenish energy and allow you to move around the Valley faster. When eaten, it can restore up to 1750 energy, or you can sell it at any of Goofy's stalls for 424 Star Coins. You can also give them characters to boost your friendship with them, especially if it is their gift of the day or their order at Chez Remy. Here are all the ingredients you will need:
Wheat x1
Eggs x1
Coconut x1
Sugar cane x1
Related: How to Make Mushroom Pizza at Disney Dreamlight Valley
Where to get Coconut Cake Ingredients in Dreamlight Valley
Since this cake has the usual baking ingredients found in most other cake recipes, tracking down these items should be pretty easy. In fact, you can find most of them between Peaceful Meadow and Dazzle Beach if you don't already have them in storage. The star item in this dish is the coconut, and you won't even need to use Star Coins to buy it. This is where you can find everything you need:
Wheat: Peaceful Meadow, bought from Goofy's Stall for 3 Star Coins (1 Star Coin per seed)
Eggs: Chez Remy, purchased from Remy's Pantry for 220 Star Coins
Coconut: Dazzle Beach, harvestable from Palm Trees
Sugar cane: Dazzle Beach, purchased from Goofy's Stall for 29 Star Coins (5 per seed)
Once you have all the ingredients you need, head to the nearest cooking station, like Chez Remy, and combine the ingredients to make this four-star cake. Don't forget that once you discover a recipe once, you can refer back to it at any time in your Collection menu or at a cooking station and make it easier to prepare.
We have many more Disney Dreamlight recipes available here at Pro Game Guides. Check out our guides on how to make Disney Dreamlight Valley Veggie Pasta or how to make Disney Dreamlight Valley Veggie Soup!